Roy O'Brien Ford Service Center near Detroit, MI
Service Your Ford at Roy O'Brien Ford in Detroit, MI
If you want your new Ford to last a long time, you'll need to keep up with its maintenance and service as recommended by the automaker. While every Ford you drive will need to have service at some point during its lifetime, the type of service your Ford requires is based on its year, model, and mileage on the odometer. Regardless of the Ford, you drive and its age, we can take care of all its service needs.
Contact our dealership to learn more about servicing your Ford in Warren today.
Why Service Your Ford?
Many car owners consider servicing their vehicle to be a hassle. After all, you need to spend money and take time out of your busy day each time your car is due for routine maintenance. However, keeping up with routine maintenance can save you money down the road in St. Clair Shores.
When you maintain your car properly, you can potentially add years to its life. You can also fix any potential problems that might arise early on before they become larger issues.
When you bring your Ford in for service, our expert technicians will take care of all its routine service needs, such as oil changes, alignments, and filter replacements. Our mechanics will also handle more extensive service milestones such as service for your car later on when it reaches a higher mileage.
Your car will be happier due to having regular service, and you will be able to either enjoy driving the car for longer or sell it for a higher resale price.
Quality Service at Our Dealership Serving Roseville
Having a top-notch mechanic work on your vehicle is just as important as maintaining your car according to the manufacturer's recommendations. Luckily, you'll find skilled mechanics at our dealership who are familiar with servicing Ford vehicles and can handle all the maintenance that your vehicle needs.
If you need parts ordered, check out our full online parts center.
We are just around the corner from Eastpointe and Harper Woods and are ready to get your Ford running like new again.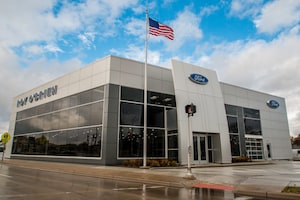 Roy O'Brien Ford
Local Ford Service Center
Serving: St Clair Shores, MI
Local Phone: (586) 776-7600
Directions to Roy O'Brien Ford
22201 E 9 Mile Rd, St Clair Shores, MI 48080
Wheel Alignment

|

Oil Change

|

Brake Service

|

Tire Rotation
Submit Your Information Below to Schedule Service
Disclaimer: The preferred appointment time that you select is not a guaranteed appointment. A service representative will be in contact to finalize an appointment that fits with our internal schedules. Thank you.